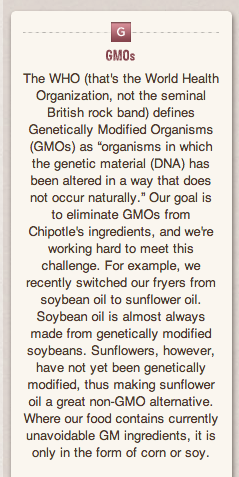 Special thanks to Kim and Shannon, who shared the good news with me. Shannon says:
It seems they have changed that chart within the past month or so. I was looking up restaurants when planning our trip to Phoenix and saw the disclaimer about soy oil. I write the company and asked exactly which items had it and if it was used when preparing the food, could I ask for it not to be used. They wrote right back and told me it was just the flour tortillas. Now I see the chart had been updated. Their message was so fast and friendly, I was impressed! Now if only I could get my in-laws to take me there while I am visiting!

I hope your kid is happy to go back to Chipotle!!! And thanks for your blog!
Well, it looks like the good news may be (mostly) true. It looks like Chipotle is dumping the soybean oil. Before us soy-sensitive people feel too warm and fuzzy about it, apparently it was dropped due to the GMO nature of most soybeans, not because of all of the poor unfortunate souls that couldn't consume soy. But, hey, we'll take it — our son hasn't been able to eat at chipotle since he was 4, so he's ecstatic.
According to this page, look down the right hand column for the box titled "GMOs", they're switching their fryers to sunflower oil instead of soybean oil. Now, searching for "soy" on that same page, shows that there's still soybean oil in the Flour Tortillas (Burrito-size) and (Taco-size), but if all we have to do is carry in our own tortillas, our son will still be in heaven.
Visiting Chipotle's official allergen page, shows updated and non-conflicting information. This page, too, lists only the tortillas as a source of soybean oil. Wouldn't it be awesome if Chipotle were the first nationwide restaurant chain to completely banish soy from their menus?
source: http://www.chipotle.com/en-us/menu/special_diet_information/special_diet_information.aspx and http://www.chipotle.com/en-us/menu/ingredients_statement/ingredients_statement.aspx